Lotus Flower Pictures
Photographs and Pictures of Lotus Plants
Having searched the web and travelled through Southeastern Asia I have been able to come up with some nice Lotus flower pictures, photographs, and images.
There are two main types of Lotus plants, and these are classified in the Nelumbo (true Locus) and Nymphaea (Waterlily) genera.
It is interesting that the color of the Lotus, and that the state of openness that they are depicted in, play a major part of their symbolism and only furthers the beauty associated with this flower.
The first two Lotus flower pictures are of the bud and fully opened forms.
The Bud image is representative of someone who is closed in and has not started upon their journey of spiritualism, the opened Lotus flower on the other hand is symbolic of someone who has reached a full understanding and reached enlightenment.

An unopened Nelumbo Flower bud - Indian Lotus

An opened Indian Lotus - Nelumbo.
Some of the common names for plants belonging to the Nymphaea genus include Star Lotus, Red and Blue Waterlily and Sacred Blue Lily.

This Lotus flower belongs to the Nymphaea genus and is therefore also catergorized as a waterlily.
Lotus plants are the inspiration behind many arts and crafts, that said one of my favourite flower inspired crafts is this Polyantha Rose Shawl by Stiches 'n' Scraps, love it.
As the Lotus is a truly exquisite plant I am sure that you will find many of these Lotus flower pictures as beautiful as I do.
I have included the following lotus flower images as being good examples of how Hinduism and Buddhism associate the Lotus flower with purity, awakening and divinity.

Ganesha Nurpur sat on a bed of pink lotus petals.
In Thailand, the King is the main protector and patron of the Buddhist religion. He is highly regarded and respected by all in the country and accordingly he is usually pictured with the pink lotus flower as is depicted in this mural on the perimeter wall of Ubon Ratchathani airport.

Mural of The King depicted with Pink Lotus Flowers
The following photographs of Lotus use were take at Doi Suthep in Chiang mai and at Shwedagon Paya.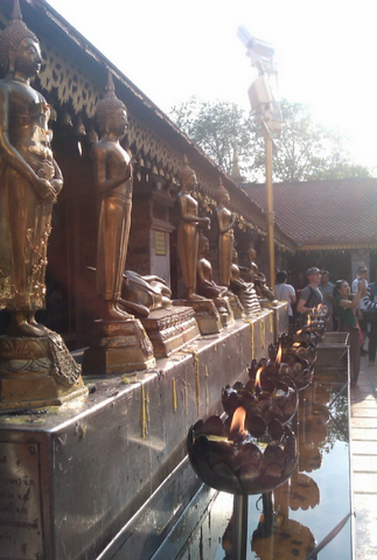 Symbolic Lotus flowers burning in front of Buddha images.

Flaming Lotus.

Lotus flowers being offered to the Buddha.
The exquisite nature of the Lotus Flower makes it a very popular topic of Chinese and Japanese art and culture.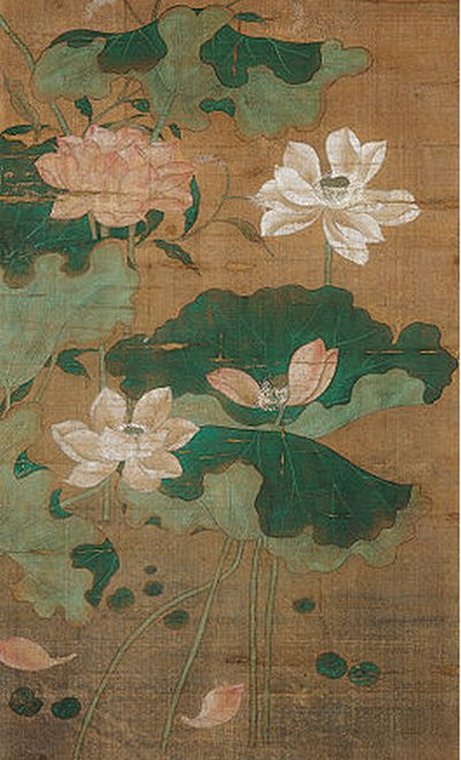 Chinese painting of pink and white lotus flowers: Yuan dynasty.
The lotus is also popular as a theme for lanterns in many parts of Asia.

Chinese lotus lanterns floating in a lake.
I hope that you have enjoyed looking at these wonderful Lotus Images. Please feel free to contact me by email if you would like to use any of the photoraphs that I took on your site (mainly taken in Thailand, Cambodia, and Vietnam).
All the content on this site is written by Dean Ravenscroft and is original, please do not copy elsewhere without referencing this site as being the original source.